About Us
The Ridhima Medical & Education research society was formed in the year 2005-2006 by the coming together of professionals in different fields to espouse a noble cause of providing quality education. The first Institution to be started by the society was medical and technology institute of Nursing in the year 2009-10, it was the first course to be started under this society. Today Ridhima group has several fourth coming courses under its umbrella.
Affiliation / Recognition
Affiliated to Rajasthan university of Health Sciences,jaipur
Recognized by Government of Rajasthan
INC Details ( F.No. 02/SEP2/2009-INC Dated. 30.09.2009)
Medical & technology institute of Nursing is situated in jaipur. The Institution has parental hospital & tie ups with reputed Hospitals to impart clinical training to the students. There is also a special course to teach you English and train those students who plan to take their IELTS / TOFEL.

The college is affiliated to the Rajasthan University of Health Sciences Jaipur and recognized by the Indian Nursing Council and by the Rajasthan Nursing Council. The college believes in preparing nurses from all states of India and abroad to meet the great challenges of services in the field of nursing.
Director's Message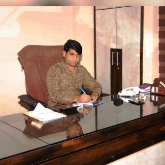 It is the increasing problem of unemployment in our country. It is a challenge to the society to provide a sound foundation to student's community by comprehensive technical education to our modern society.

Ridhima Medical Education & Research Society has served the course of providing yeoman service in the past pledge to serve with more constructive and gainful and result oriented technical service in future.

May I quote sir Winston Churchill this is not the end, it not even the beginning of the end, But it is perhaps, beginning of the end.

Medical & Technology Institute of Nursing with affiliation from Rajasthan University of Health Science, Jaipur and recognized by Indian Nursing Council, New Delhi has courses in under Graduation which is in demand global wide of which I am sure will give a boost to the students.

I welcome you to join the oriented courses which imbibe discipline, dedication, Determination and Finally distinction to achieve bright future, I wish you all the best
Wishes and grand success

Thanking you
Rambabu Sharma
Recognized by
Indian Nursing Council and Rajasthan Nursing Council